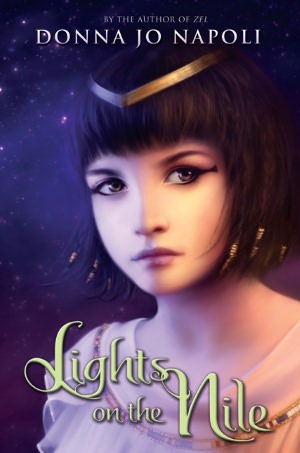 I had the pleasure of reviewing one of Donna Jo Napoli's latest titles, Lights on the Nile for the Historical Novel Society and was eager to chat with this award-winning author about her latest retelling.
Thanks, Donna Jo, for sharing more about this wonderful middle grade novel.
1. You've written so many fairytale retellings, what sparked this one?
Brenda Bowen, who was an editor at Harper Collins at the time, asked me if I liked Tinker Bell. Indeed, as a little kid, I adored Tinker Bell. I even defaced books by cutting her out, to play with (a shameful act, but one I couldn't keep myself from). She fascinated me. So Brenda asked me to write a Tinker Bell story. I normally start my fairytales by going to the earliest source I can find, so I naturally found myself asking where the very first fairies originated. And my search came up with Egypt. So that's where I started. Tinker Bell was the spark.
2. What were the challenges in setting this tale in ancient Egypt?
There's quite a lot to read about ancient Egyptian agriculture and flora and fauna, so that was helpful. But when it comes to the Egyptian gods, there is much conflicting information. There is no one authoritative source (unlike Hesiod for the Greek gods). Rather, there are some damaged and incomplete papyrus scripts in pyamids and tombs here and there, but they are often written by several scribes sometimes over decades. Inconsistencies abound. Further, Egypt was invaded multiple times, and the Greeks took it upon themselves to tell many of the Egyptian myths that people kick around today -- but these are interpreted through the eyes of the Greeks, of course, and they are much later than the period of my story. So who knows how authentic they are for my time period? Coming up with an understand of the gods that allowed me to have the confidence to write this story was a big challenge.
3. At the Society of Children's Book Writers and Illustrators Conference in LA you spoke about the importance of putting your character in dangerous situations. The story of Kepi in Lights on the Nile is enough to make any parent squeamish. Similar to your main character in Hush, Kepi undergoes her own "silencing" during her kidnapping. Tell us how you managed to keep up the tension during these "quiet" times for your character.
Kepi is at the mercy of the men who have imprisoned her as well as at the mercy of forces of nature (she's on a boat on the swift and deep Nile, which is full of crocodiles and hippos) as well as at the mercy of gods (who manipulate the lives of individuals). So the situation itself is tension ridden. Her own focus is nearsighted at first -- she just wants to get her stolen baboon back. But as time goes on, she begins to understand better both herself and the dangers of the world. Gradually, that focus moves to larger issues. It is in the quiet times of her imprisonment that we see the development that leads to that shift in focus. And that shift in focus means that she must gain the courage to confront the pharaoh himself. My hope is that this also contributes to the tension of the quiet moments.
4. What made you decide to write this fairytale for middle grade rather than young adult?
I don't think I made a "decision" so to speak. Instead, I did my research and then I started writing, and there was Kepi on the page. And then there was the baby baboon. And things just rolled from there. If Kepi had been older, then I would have shaped the book for an older reader. But there she was, and I loved her immediately, so there was no decision to make.
5. What's next for your fans?
I'm working on a book of Egyptian gods, as a companion book to my recent TREASURY OF GREEK MYTHOLOGY. But I'm also doing the research for a middle-grade novel that starts in 1943. It's forming in my head faster than I can do the research, but I don't want my fingers to get ahead of my eyes, so I don't want to write until I understand better the world this character inhabits. It's a terrifying story.
Thanks, Donna Jo!