In the last two years the Nutcracker has popped back into my life in a big way. Last year my cousin's daughter danced the role of Clara. Watching her brought back all of my ballerina years of tutus and toe shoes. She was just beautiful!
This year I am watching it with different eyes. My critique buddy,
Kyra Ties,
has been working for months redesigning the costumes for the party scene in the Northeast Ballet's production. I can't wait to see her costumes under the lights! It has truly been a labor of love for her. In addition, her daughter is dancing in the production!
Although this is the
Northeast Ballet's
25th production of The Nutcracker, the ballet has a much longer history. With music by Tchaikovsky it first premiered the week before Christmas in 1892. The Moscow Ballet has been performing it ever since and, as you know, it has become a staple of the holiday season throughout the world.
The classic tale was originally written by E.T.A. Hoffman and has been adapted into many books. I think my favorite is illustrated and retold by
Susan Jeffers
.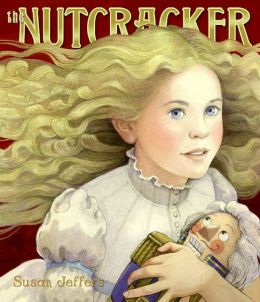 There are so many other variations you can find in bookstores. My suggestion is to take your kids to a local production followed by a bookstore visit to let them choose their favorite book to commemorate their special day! It doesn't get more magical than that!